Wafts of slow-cooked meats on every street corner, a plethora of pick-up trucks each the size of an apartment and cowboy boots akimbo … Austin is every cliché you can imagine about Texas, but it's also a city full of creativity, some of the friendliest folks I've ever met and the perfect place for South by Southwest (SXSW).
At this mammoth gathering of people from film, television, music, comedy, technology and art, I spent nine days diving headfirst into world premieres, Q&As, launches, creative meet-ups, afterparties and in-conversations, and accidentally crashed a fully catered fintech happy hour.
From the impressively terrifying horror debut of Australian YouTubers Danny and Michael Philippou (of 'RackaRacka' fame), Talk to Me, and Megan Stalter's performance as an endearingly messy millennial in Cora Bora, to a meditation on the life of William Shatner, You Can Call Me Bill, to writer/director/star Julio Torres's surreal journey Problemista – featuring RZA, Isabella Rossellini and Tilda Swinton as an eccentric from the art world (naturally) – I saw some absolute gems.
But the most fun I had was with two outstanding queers-gone-bad comedies, best watched with a packed, raucous audience: Bottoms, the sophomore feature from Shiva Baby (MIFF 2020) director Emma Seligman, stars Rachel Sennott and Ayo Edebri as teens who start up a fight club at their high school to win the affections of hot cheerleaders. And Down Low, featuring Zachary Quinto, Lukas Gage (who also co-wrote the script) and Simon Rex (who plays a necrophile – one of the few who could do so with charm!), centres on a closeted gay man and the twink masseuse who opens up that world for him.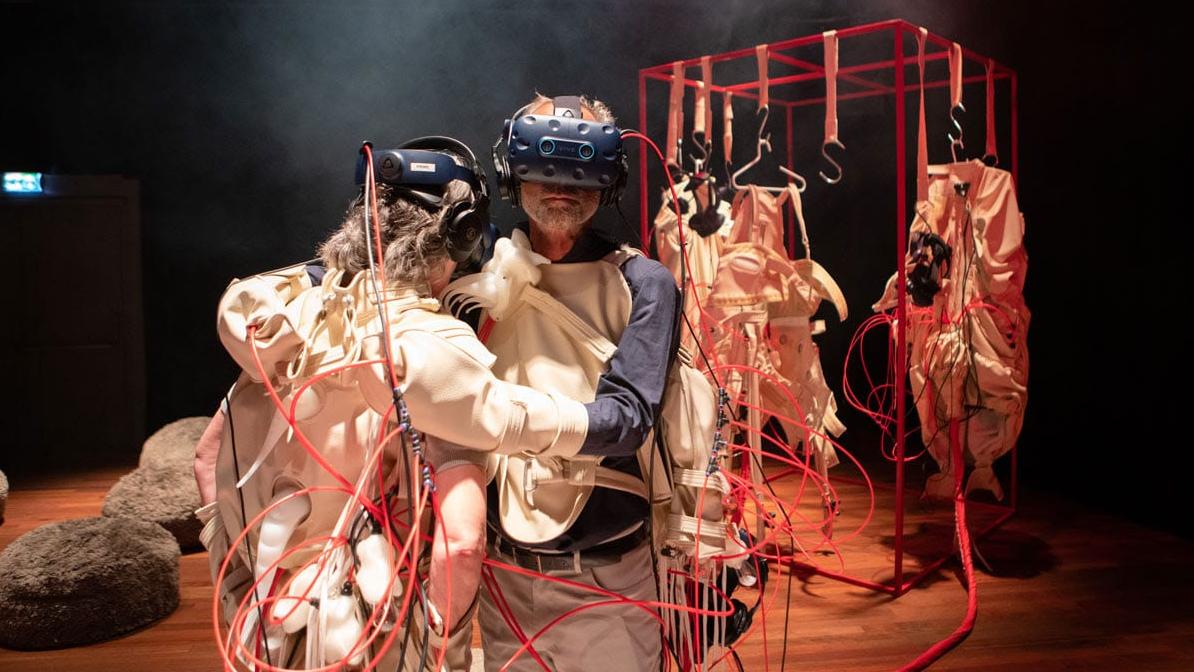 Above: Symbiosis | Header: SXSW 2023

I, alongside some eager extended reality (XR) funders, filmmakers and fanatics, then descended on a hotel ballroom armed with a roughly scrawled schedule and a box of Clif Bars to fill every minute possible in a headset. The 30-plus XR program took me from stepping into the shoes of an autistic child (Lou), to facing a social reckoning in a panopticon (The Eye and I), to embodying a futuristic AI entity while strapped into an air-pumped straitjacket with scent bulbs (Symbiosis), to witnessing live dancers with disability virtually interact between London and Austin (Figural Bodies).
After three days, emerging bleary-eyed and pale, I dashed around on an electric scooter (the vehicle du jour at SXSW) to as much as I could before it was all over. Although I barely grazed the other sections of the festival, I did get swept up in the musical stylings of Taiwanese math-rock band Elephant Gym, gaped in awe at American rap legend Talib Kweli and drifted on the baritone-tinged clouds of Cornwall indie seven-piece The Golden Dregs.
By the end, although the counted hours slept was minimal, the number of business cards collected was large, so I assembled them into a makeshift pillow for the flight back. Dreaming about the movie stars I saw in the flesh and my harried attempts at inhaling a taco before dashing off to the next meeting, I couldn't deny that attending SXSW was a wild hallucination come true. Yeehaw to many more!